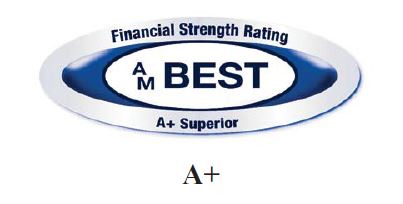 Southern Farm Bureau Life Insurance Company continues to build on our history of financial strength while providing valuable benefits to Farm Bureau families across eleven states. A.M. Best continues to recognize our strong capitalization in their assignment of our A+ (Superior) rating.

The Best's Rating Report reproduced on this site appears under license from A.M. Best and does not constitute, either expressly or implied, an endorsement of (Licensee)'s products or services. A.M. Best is not responsible for transcription errors made in presenting Best's Rating Reports. Best's Rating Reports are copyright © A.M. Best Company and may not be reproduced or distributed without the express written permission of A.M. Best Company. Visitors to this website are authorized to print a single copy of the Best's Rating Report(s) displayed here for their own personal use. Any other printing, copying or distribution is strictly prohibited.

Best's Ratings are under continuous review and subject to change and/or affirmation. To confirm the current rating, please visit the A.M. Best website, www.ambest.com.
---
The Independent Comparative Report was prepared by Standard Analytical Service, Inc. They have been analysts and publishers of independent insurance reports since 1932.

This report may not be reproduced or printed without the express written permission of Standard Analytical Service, Inc. Contact your agent or the Home Office for a printed copy of this report.
IMPORTANT NOTE: These ratings reflect the opinions of the commercial rating organizations shown as to the relative financial strength and performance of the insurer in comparison with others. Such ratings are not a warranty of the insurer's current or future ability to meet its contractual obligations.